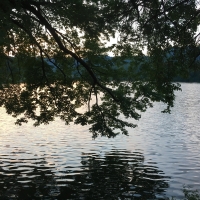 Listening to the Spirit: Reflections on John 16:12-15
by Micah Riley | June 11, 2019

Listening to the Spirit: Reflections on John 16:12-15




Good afternoon, Canton family! Today's Lectionary text comes to us from the Gospel of John, chapter 16. The Gospel of John provides for us a unique, intimate perspective on the night before Jesus's death. Whereas the other Gospels focus more on the events of Jesus's final hours, John dedicates several chapters to inviting us into these final conversations between Jesus and his disciples. Jesus washes his disciples' feet after dinner (ch 13) and immediately begins telling them many things, things he refrained from telling them before because he was still with them (16:4); but now he is going away, even though he has so much more he wants to tell them (v. 12).
The disciples' anxiety and confusion must have been overwhelming; their teacher, this Galilean who had wandered into their towns and turned their lives upside down, had become the center of their lives — and now he was going away? "What does he mean?", they asked one another. "What is he talking about?" (16:18). Jesus provides for his disciples what must have seemed to be mysterious words of comfort: "I will ask the Father, and he will give you another Advocate, to be with you forever" (14:16). He continues, "The Advocate, the Holy Spirit, whom the Father will send in my name, will teach you everything, and remind you of all that I have said to you" (14:26). And again, "When the Advocate comes, whom I will send to you from the Father, the Spirit of truth who comes from the Father, he will testify on my behalf" (15:26). Finally, in chapter 16, Jesus says something truly shocking about this Advocate: "I tell you the truth: it is to your advantage that I go away, for if I do not go away, the Advocate will not come to you; but if I go, I will send him to you" (16:7). After describing the function of the Advocate for the world — to deal with matters of sin, righteousness, and judgment (vv. 8-11) — Jesus tells his disciples how the Advocate will function for those who belong to the Father:
"I still have many things to say to you, but you cannot bear them now. When the Spirit of truth comes, he will guide you into all the truth; for he will not speak on his own, but will speak whatever he hears, and he will declare to you the things that are to come. He will glorify me, because he will take what is mine and declare it to you. All that the Father has is mine. For this reason I said that he will take what is mine and declare it to you." (John 16:12-15, NRSV)
We meditate on these words the week following Pentecost Sunday, living now in the future reality of which Jesus spoke; but perhaps we hear them with a similar confusion as the disciples — "What does he mean? What is he talking about?" As we should be, we are accustomed to reading the words Jesus spoke during his earthly ministry and listening closely for God's whisper in them, discerning what he might be saying to us today through the words he spoke then. Yet, there is another one who speaks on behalf of the Father, declaring to us what belongs to Jesus — the Spirit of truth, who lives within us. If God wished only to speak to us through Scripture, surely the disciples more than anyone would have no need for an Advocate to lead them into truth — they had been listening to Jesus's teachings day after day for years! But we find that Jesus does not intend to leave the disciples alone with only their memories — the presence of God will be with them in the Spirit, both reminding them of what they have heard (14:26) and giving them new revelation of truth (16:13).
As disciples of Jesus, we too were on Jesus's mind and heart the night before he died — "I ask not only on behalf of these, but also on behalf of those who will believe in me through their word" (17:20). Furthermore, as disciples of Jesus, we too have the Spirit of truth as our companion and Advocate. This summer in children's church at Canton First Baptist, we are exploring the mystery of prayer together. Every week we have "Question Time" in which I, the ministry intern, ask the children questions in order to learn from them. Last week I asked the kids, "What is prayer?" One little boy answered, "It is a conversation we have with God so we know what to do." Truly, as our Lord told us, the kingdom of heaven belongs to such as these! (Matt 19:14). May our devotion to the Lord this week reflect this conversational aspect of prayer. As we present our requests to God in thanksgiving (Phil 4:6-7), may we also listen for the voice of the Spirit, who guides us into truth and makes intercession for us (Rom 8:26). The Spirit of God is creative, speaking to us in many ways — through Scripture, through impressions on our minds and hearts, through God's creation and his Church. May we listen intently and find God near in the presence of our Advocate!