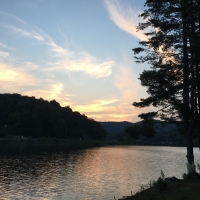 Introduction & Reflections on Romans 8:14-17
by Micah Riley | June 5, 2019

Reflections from Lake Junaluska: Romans 8:14-17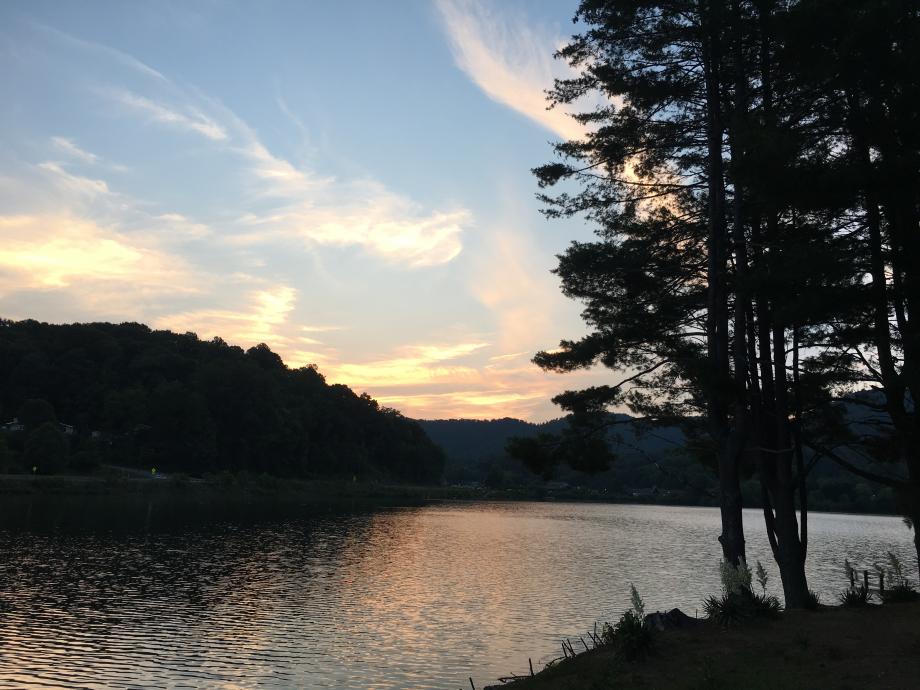 Hello Canton community! For those of you I have yet to meet, my name is Micah Riley and I am serving First Baptist this summer as a ministry intern. Pat and Linda Stewart have graciously welcomed me into their home at Lake Junaluska, and I am finding quiet evenings by the water to be a nice context for spiritual reflection. This blog will include those reflections, as I process the week's Lectionary texts and the things I am learning from you all. And truly I realize more every day how much there is to learn from you, as I better get to know this beautiful little town tucked in the mountains with such rich history and community. While I'm not a Carolina native myself, I was raised just down the road in Knoxville and am currently living in Durham where I study at Duke Divinity School. For those of you who find this alarming, know that I'm not much of a sports fan and don't care what shade of blue you might wear on game-days. Although, as a divinity student, I have caught on to a number of biblical references surrounding Duke's sports culture, whether it be people on the streets shouting "Zion!" or overhearing folks around UNC speculating that all blue devils will be condemned on judgment day. (I kid.)
As one raised in a very Baptist home, I have had little exposure to the Lectionary until recently. After attending the Canton pastors' Lectionary-based Bible study, I spent about an hour Google-searching how the Lectionary came to be and why in the world anyone would use it instead of just picking up a Bible. As it turns out, the impression I was raised with — that things like the Lectionary are dry and rigid — is far from the truth. Rather, it is a useful tool that helps the church read the Bible together across space, time, and denomination. As I am exploring the value of the Lectionary for myself this summer, I have decided to use the weekly Lectionary texts as a guide for these devotional entries; every week I will pick a couple of passages for the coming Sunday and provide some personal reflections.
The text I have chosen for this entry is Romans 8:14-17:
For all who are led by the Spirit of God are children of God. For you did not receive a spirit of slavery to fall back into fear, but you have received a spirit of adoption. When we cry, "Abba! Father!" it is that very Spirit bearing witness with our spirit that we are children of God, and if children, then heirs, heirs of God and joint heirs with Christ—if, in fact, we suffer with him so that we may also be glorified with him.

Readers of this passage have heard echoes of an old story that was clearly very important to Paul — the great exodus of Israel, God's child (Exod 4:22), who was led out of Egyptian slavery and guided into the wilderness by God's presence in the pillar of cloud and fire (Exod 13:21-22; 14:19). The narrative is now reimagined by Paul in light of Jesus's death and resurrection and the new state of affairs effected by his salvific work. Those deathly, short-sighted ways of living — the slavery to the flesh — once held God's people captive; but now they have become free sons and daughters, brought into the sonship of Jesus and promised a glorious inheritance. That inheritance, which includes at least the redemption of creation and the resurrection of our bodies, lies somewhere in the future (Rom 8:19-27); until then, God's Spirit guides his children through this present wilderness until the day that we finally see the promised land.
We may come to face seemingly impossible circumstances that tempt us to fall into fear, like those Israelites who began daydreaming about slavery when they approached the Red Sea, Pharaoh and his army hot on their tail (Exod 14:12). But our doubts crumble under the weight of God's faithfulness, and we find that God never fails to part the sea before us. This does not mean, of course, that we will not suffer; in fact, suffering in solidarity with Jesus is the only way forward into eternal life. But suffering never gets the final word. The apparent dead end that stirred fear in the hearts of the Israelites was split wide open; the dark night of Jesus's death which inspired fear in the disciples was made bright with the rising of the Son. So, while the path on which the Spirit guides us often involves pain, we are guaranteed that our end will be glory — and it is in this bold hope that we cry out "Abba! Father!", an intimate call which indicates trust for our loving parent who has graciously welcomed us into his family and who surely will not forsake his children even in the darkest night. Even then, the Spirit resides within us and beyond us, guiding us like a pillar of fire until that day when everything is made new and all tears are wiped away (Rev 21:4).
As we pray for those suffering in Canton this week, we suffer with them knowing that their pain is very real and not delegitimized by the good news of the kingdom — yet we remember too that suffering will not have the last word. This pain must not lead us to hopelessness or the bondage of fear, but rather inspire a deep groaning within us as we long for the day that those weak ones whom we love are restored to strength, those sick are restored to health, those dying are restored to life, and those mourning are restored to joy. Jesus, the firstborn son who runs before us (Heb 12:2), is both the one weeping at the graveside (John 11:35) and the one ruling on the throne, promising us that he will make all things new (Rev 21:5). May we carry this hope with us this week!